The beautiful scenery in Vietnam "fascinates" visitors
Updated: 04 Jun, 2019 lúc June 04, 2019
The photos of the beautiful scenery below are judged to have the power that makes people want to immediately bring their backpack and travel to Vietnam.
Buzzfeed (USA) has recently published an article introducing photos that are said to be "mesmerizing", making any beloved devotee to ... bring backpacks to and from Vietnam. :
Vietnam contains the pristine beauty of nature and the modern beauty of the developing cities. (Photo: Tho Le Duc / National Geographic. Terraced fields in Northern Vietnam)
You can enjoy the vibrant, bustling life of the city ... (Photo: Khan G Nguyen / Flickr. Da Nang)
... And can also enjoy a peaceful life, slowly in the countryside. (Photo: Michaël Garrigues / Flickr. Ninh Binh)
This is the scene where the sun rises ...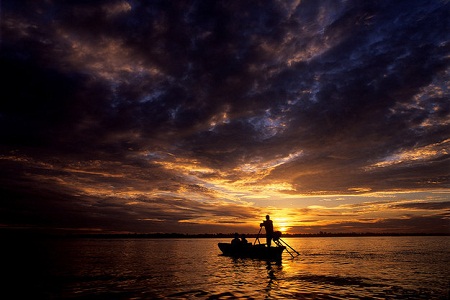 Beauty distracts tourists. (Photo: Blue Fam / Flickr. Rach Gia, Kien Giang)
The beauty of the Mekong Delta makes it an amazing land. (Photo: Nhiem Hoang / Smithsonian Magazine)
Vietnam has a long coastline and is home to beautiful beaches. (Photo: David Meenagh / Flickr. Con Dao)
What could still make the beloved believers not arrange their luggage to go to Vietnam? (Photo: Khanh Hmoong / Flickr. Nha Trang)
Ha Long's beautiful scenery can simply be described as a marvelous wonder. (Photo: Nathan O'Nions / Flickr)
Halong is one of the most attractive destinations in Northern Vietnam. (Photo: Andrea Schaffer / Flickr)
If you want to look for old beauty, go to Hoi An. (Photo: Exotissimo Travel / Flickr)
The scenery of Hoi An is magical at night. (Photo: Loi Nguyen Duc / Flickr)
Want to see the mountain scenery? Come to Sapa. (Photo: Nathan O'Nions / Flickr)
Ha Giang province is sure to make visitors surprised by the beautiful natural scenery. (Photo: Nhi Dang / Flickr)
No trip to Vietnam can be considered perfect without visiting the dynamic capital - Hanoi. (Photo: Justin Guariglia / National Geographic)
If you want to find a place with a fast pace, a bustling atmosphere, but still keep the features
ancient, no place in Vietnam more than Hanoi. (Photo: Dominique Bergeron / Flickr)
Coming to Hanoi, there are many interesting and interesting things to observe, what you need to do is let yourself wander ... (Photo: Marco Sarli / Flickr)
And don't forget to explore Hanoi's old town. (Photo: Maarten Thewissen / Flickr)
Looking for adventure? Vietnam has the largest cave in the world waiting for you. (Photo: Carsten Peter / National Geographic)
Experience a space that makes you think you're in the Sahara desert, which is the sand dunes in Mui Ne. (Photo: Ng Yeow Kee / National Geographic)
The temples in Vietnam have a very special spiritual and religious atmosphere. (Photo: William Cho / Flickr)
Try the world's tallest and longest cable car in Vietnam. (Photo: Trang Nguyen / The Guardian)
And try looking at this place, even, you will wonder, is there a beautiful place on earth?